Beckwith Electronics

Hamburg, Illinois 62045
(618) 232-1139
(618) 232-1172 fax
Power Dynamics, Inc.

Back Side
Solder Terminals
42R08 Series
16 Amp/20 Amp, 250 VAC
Side Flange
42R08-1

Cross Flange
42R08-2

Snap-In
42R08-3
Power connectors rated 16 Amp., 250 VAC, 70°C to 155°C operating temperature. Available 20A for UL and CSA. Units are available with solder lug terminal configurations. Designed for versatile mounting, 42R08 is available in screw or snap-in panel mount and three mechanical mounting configurations.
Specifications
Material and Finish:
Housing:
Material:
Polycarbonate
Rating:
UL 94V-0
Contacts:
Material:
Copper
Plating:
Tin
Electrical Specifications
Insulation Resistance:
100 Megaohm min. @ 500 VDC
Dielectric Strength:
2000 VAC for 1 minute
Example & Ordering Code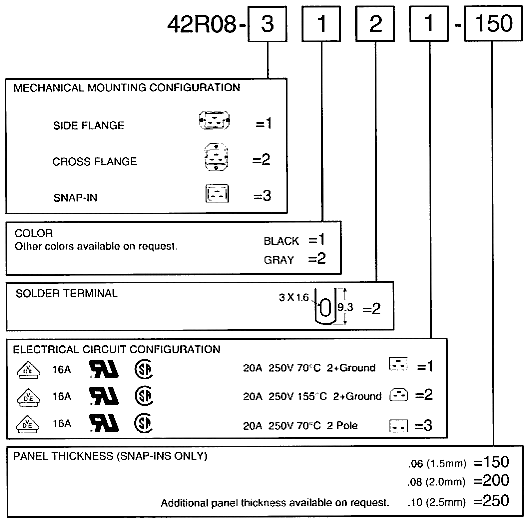 Specifications subject to change without notice. (Metric dimensions are shown in parentheses.)
Part Numbers
42R08-1121
42R08-1122
42R08-1123
42R08-1221
42R08-1222
42R08-1223
42R08-2121
42R08-2122
42R08-2123
42R08-2221
42R08-2222
42R08-2223
42R08-3121-150
42R08-3121-200
42R08-3121-250
42R08-3122-150
42R08-3122-200
42R08-3122-250
42R08-3123-150
42R08-3123-200
42R08-3123-250
42R08-3221-150
42R08-3221-200
42R08-3221-250
42R08-3222-150
42R08-3222-200
42R08-3222-250
42R08-3223-150
42R08-3223-200
42R08-3223-250