Beckwith Electronics

Hamburg, Illinois 62045
(618) 232-1139
(618) 232-1172 fax

Moody Tools, Inc.
Discontinued for reference only

No Replacement Available

Inspection Light Set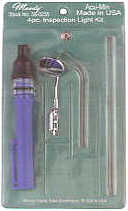 Stock No 58-0235
The 4 PieceAcu-Min® Inspection Light Set contains a flashlight, straight conducting rod, curved rod and mirror.
This set is designed for the Field Technician who especially needs light to shine on hard to reach areas.
The straight rod conducts the battery-powered xenon light down straight passages. The curved rod conducts light around corners to reach areas not normally seen.
The small mirror fits snugly on the end of the attachment rod.
Set is packaged in a 4 1/4" x 7 3/4" vinyl pouch with an integral header with hole for either workshop or dealer peg board display.
Replacement Flashlight Stock No. 49-8183