Beckwith Electronics

Hamburg, Illinois 62045
(618) 232-1139
(618) 232-1172 fax

Moody Tools, Inc.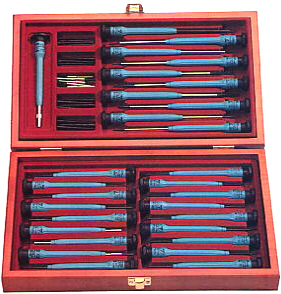 56 Piece Deluxe Tool Set
Stock No. 73-0399
The Pollicis® 56 Piece Deluxe Tool Set
Contain: 10 Extended Reach drivers, 18 standard length drivers and one Chuck-type handle with 27 interchangeable blades.
Every Handle is Anti-Static & Ergonomic. This set is packaged in a 2" x 6 1/2" x 11 1/2" solid wooden box with rugged hinges and secure closure. Tools are displayed in a two level fitted interior.
This set contains the following Blade Sizes
Slotted
.025", .040", .055", .070", .080", .100", .125", .141", .156"
Phillips-type
#000, #00, #0, #1
JIS-type S
#0, #1
Hex
.028", .035", .050"/#4, .062"/#6, .078"/#8, .093"
Metric Hex
0.7mm, 0.9mm, 1.3mm, 1.5mm, 2.0mm, 2.5mm
Torx®
T-1, T-2, T-3, T-4, T-5, T-15, TP-8, TP-10
Nut Driver
5/64", 3/32", 7/64", 1/8", 5/32"
Metric Nut Driver
2.0mm, 2.5mm, 3.0mm, 3.5mm, 4.0mm