Beckwith Electronics

Hamburg, Illinois 62045
(618) 232-1139
(618) 232-1172 fax

Moody Tools, Inc.
Each Acu-Min® Adapter Sets includes an insert bit adapter, a power driver adapter and several interchangeable blades allowing every Moody blade to be used in any application that requires a 1/4" drive.
Sets are packaged in a 3" x 4" vinyl pouch.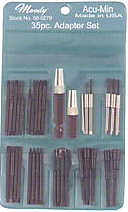 58-0279 shown
58-0277
Provide a large selection of precision miniature tools for use with your 1/4" drive hand or power torque controlled applications.
Each set contains one power driver adapter, one insert bit adapter and 33 blades.
Sets are packaged in a 3 3/4" x 6 3/4" vinyl pouch with secure integral header with hole for either shop or dealer peg board display.
35pc Metric Assorted Adapter Set
Slotted 0.6mm, 1.0mm, 1.4mm, 1.8mm, 2.0mm, 2.5mm
Phillips-type #000, #00, #0, #1
JIS-type S #000, #00, #0, #1
Torx® T-3, T-4, T-5, T-6, T-8, T-10, TP-8, TP-10
Hex 0.7mm, 0.9mm, 1.3mm, 1.5mm, 2.0mm, 2.5mm
Nut Drivers 2.0mm, 2.5mm, 3.0mm, 3.5mm, 4.0mm