Beckwith Electronics

Hamburg, Illinois 62045
(618) 232-1139
(618) 232-1172 fax

Moody Tools, Inc.
Pin Vises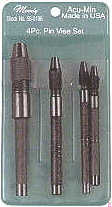 The Acu-Min® 4 Piece Pin Vise Set - Stock No. 58-0196 Superior concentricity allows these quality pin vises to be used by hand or in machines. Long items are accommodated by full-length hollow handles. Deep knurling assures sure grip for hand work.
The 4 pc. Pin Vise Set contains 4 individual pin vises in capacities ranging from .000" to .018" (0 to 4.8mm). Each pin vise features a solid locking, spring tempered, steel collet for exacting work. This set is packaged in a 3" x 6" vinyl pouch.

51-1506
Hand Held Pin Vise
Capacity .000" to .031" (0 to .8mm)
The Acu-Min® Hand Held Pin Vises are specifically designed for fine hand held work.
Each pin vise has 1/4" diameter, lightweight, knurled handle with SwiveltopTM and steel chuck.
Available in two capacities. OAL 2 3/4"