Beckwith Electronics

Hamburg, Illinois 62045
(618) 232-1139
(618) 232-1172 fax

Hirschmann

Discontinued for reference only
Junction Boxes
Junction boxes
with integrally molded
connecting lead
Product description
Featuring a preassembled integrally molded connecting lead (suitable for drag link applications) and coated in corrosion resistant polyurethane. This is the idea box for standard applications.

Product features
1 or 2 signals per output, LED status display for rapid fault location.

Variations
Available as 4- or 8-way junction box. Further duo assignment or other variants on request (for example 6-way junction box).

Basic data
Protection class IP68, integrally molded connection lead PUR 0,34 mm2.Exceptionally thin housing (16 mm), hole dimensions to industrial standard.

Further information
See technical data in the catalog. Junction boxes...with dependable, industry-standard cabling DS 280 410-483.
Type
Distribution
Connecting
Lead Length
Order No.
ASC-4-1-LED-PUR034-5m
4-way
5m
933893-022
ASC-4-1-LED-PUR034-10m
4-way
10m
933893-023
ASC-8-1-LED-PUR034-5m
8-way
5m
933892-022
ASC-8-1-LED-PUR034-10m
8-way
10m
933892-023
ASC-8-2-LED-PUR034-10m
8-way
10m
934003-023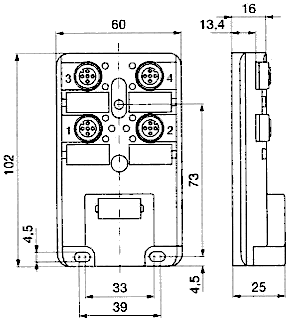 ASC-4-1-LED-PUR034...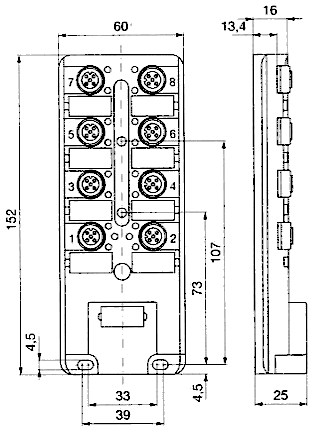 ASC-8-1-LED-PUR034...