Beckwith Electronics

Hamburg, Illinois 62045
(618) 232-1139
(618) 232-1172 fax

Hirschmann
E Series M8
IEC 60947-5-2
Appliance connectors
for press-in fit

Product features
Installation of proximity switches, photoelectric cells, etc. in sensor tubes (press-fit installation)

Variations
Appliance connectors with aperture for mini-LED (display window), snap or screw locking
appliance connectors, snap or screw locking

Basic data
Protection class IP 67 (IEC 60529)
type of connection solder (hollow pins or solid pins)

Further information
See technical data in the catalog Circular connectors for automation technique DS 280 490-450 or contact Beckwith Electronics.
For tailor-made systems, Click here.

Poles
Plug
ELST
contacts
gold-plated
Operating
Voltage
Comments
3
3308 RV LH
3308 RV LM
3308 RV KH
3308 RV KM
933153-001
933154-001
933392-001
933391-001
UC 60V ( ~ )
hollow pins, aperture for mini-LED (display window)
solid pins, aperture for mini-LED (display window)
hollow pins
solid pins
4
4408 RV LH
4408 RV LM
4408 RV KH
4408 RV KM
933158-001
933159-001
933394-001
933393-001
UC 60V ( ~ )
hollow pins, aperture for mini-LED (display window)
solid pins, aperture for mini-LED (display window)
hollow pins
solid pins
ELST...RV LH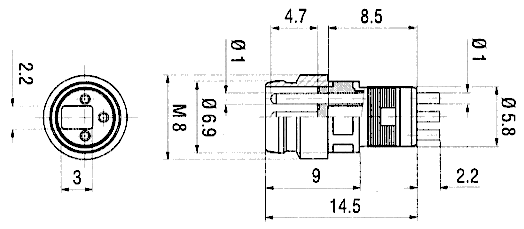 ELST...RV LM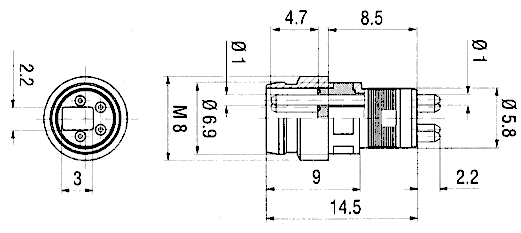 ELST...RV KH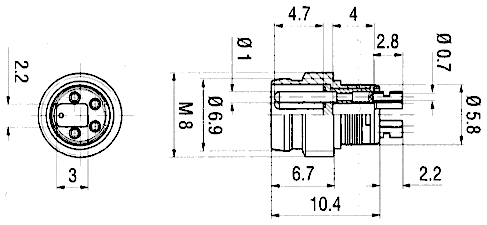 ELST...RV KM