Beckwith Electronics

Hamburg, Illinois 62045
(618) 232-1139
(618) 232-1172 fax

Hirschmann
MiniQuick E Series M8
IEC 60947-5-2
Cable sockets and plugs
for self-assembly

Product features
connection of
Inductive or capacitive proximity switches
photoelectric barriers
Pressure-operated switches ect.

Variations
Cable sockets and connectors

Basic data
Protection class IP 67 (IEC 60529)
strain relief by means of clamping cage
type of termination pin penetration

Further information
See technical data in the catalog Circular connectors for automation technique DS 280 490-450 or contact Beckwith Electronics.
For tailor-made systems, Click here.

Example for placing orders: 933366-100 ELKA 3308 V
ELKA

ELWIKA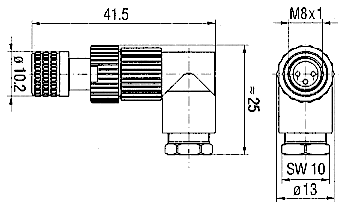 ELST

ELWIST