Beckwith Electronics

Hamburg, Illinois 62045
(618) 232-1139
(618) 232-1172 fax

Hirschmann
E/G Series Interconnection systems
IEC 60947-5-2/DIN 43650
Interconnection systems
(cable sockets and connectors
with molded-on lead)

Product features
connection of
sensor/actuators

Variations
connection cable with LED (rectangular connectors)

Basic data
protection class IP 67 (IEC 60529, central screw with O-ring, otherwise IP 65)
high flexible lead (PUR)

Further information
See technical data in the catalog The endless versality of Hirschmann connecting cables DS 280 420-461. In addition to the types listed,other connecting leads can be supplied on request (approx. 1,000,000 possible combinations).
We will be pleased to provide advice on the following possible combinations:
E Series

M12/M12
M12/M8
M8/M8

E Series/G Series
Example for placing orders:933480-023 EM 5312/GM 3101 PUR
M12 cable plug, 1.0 m connecting lead, industrial standard design B,
cable socket with integral electronic.
Cable Length
Length
Order no.
Suffix
Connecting lead are available in standard lengths of
0.3 m/0.6 m/1.0m/1.5 m and 2.0m. A 3-digit suffix corresponding
to the required length should be added to the quoted order ref. no.
0.3 m
...-021
0.6 m
...-022
1.0 m
...-023
1.5 m
...-024
2.0 m
...-025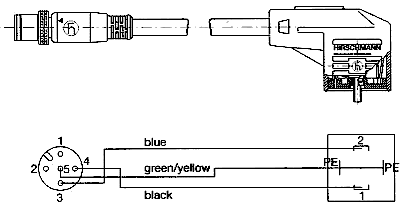 Standard Componentary (rectangular connectors)