Beckwith Electronics


Hamburg, Illinois 62045
(618) 232-1139

(618) 232-1172 fax

Aim Electronics
VOICE & DATA
CATEGORY 5 & FIBER OPTIC
DUCT RACEWAY ACCESSORIES
Discontinued for reference only
Engineered for TIA/EIA Compliant Cable Management
AIMDUCT and Category 5/Fiber Optic Fittings are ideal for routing and protecting fiber optic, voice, data, and LAN cables. A complete line of raceways, matching accessory fittings, junction boxes and Category 5 information management outlets are available.
Engineered to provide easy routing of Category 5/Fiber Optic Cables. Category 5 compliant fittings exceed the industry requirement of a minimum 1 inch bend radius; the AIM complete line of fittings provide a 1.5 inch bend radius.
Category 5 and Fiber Optic fittings use a patented internal connection ensuring continuous cable protection; providing both fast and easy installation. In addition, this self-aligning internal connection maintains the critical bend radius with or without an installed cover.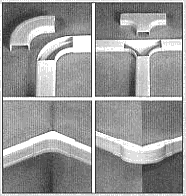 Low profile
fast and easy installation
resists cracking on impact
EIA/TIA compliant

Right angle
43-6122 1 inch

Inside corner fitting
43-6131 1 inch

Outside corner fitting
43-6141 1 inch

Tee fitting
43-6103 1 inch
RACEWAY DUCT MADE IN THE U.S.A.

Easy to Install
Ideal for Installation Requiring Multiple Circuits
High Performance, Low Profile
Made of Flame Resistant PVC


This duct system is designed to contain everything from flat wire to coaxial cable. Made of UL listed 94V-0 PVC. This duct is self extinguishing and engineered to resist heat, impact, moisture, and most organic solvents. The separate base and cover allows this duct to be opened and closed hundreds of times without stress or fracture. This duct system installs in minutes with its special adhesive base and accessory fittings. For a custom look this duct can be painted with a latex based paint.

Two Piece System

Part
Number
Internal
Width (in.)
Internal
Height (in.)
Length
(Ft.)
Std.
Pack
43-2001
1" 1.00
.50
6.00
30 ft.
43-2002
1/2" .50
.25
6.00
60 ft.
NOTE: This duct is UL listed for power applications up to a full 600 volts when mechanically mounts every eight inches with a # 8 screw. Also meets Article 382, Section B of the National Electric Code. Patented

Fast, Easy to Install
Complete Line of Accessory Fittings
Made of High Impact PVC


A quality. low cost, one piece latching duct to speed the installation of low voltage wire runs. The entire base of the duct is coated with high performance adhesive to eliminate the costly drilling of holes for mechanical fasteners.
Engineered to form a flexible "living" hinge, the One Piece Latching duct can be opened and closed repeatedly without cracking. This system also features an innovative reinforcing arm, which assures a positive lock and prevents accidental opening on impact.

One Piece Latching System

Part
Number
Internal
Width (in.)
Internal
Height (in.)
Length
(Ft.)
Std.
Pack
Min.
Max.
Min.
Max.
43-1001
1" 1.18
1.40
.48
.60
6.00
30 ft.
43-1002
1/2" .43
.66
.37
.48
6.00
60 ft.
One Piece Latching duct has the same low profile as the original two-piece system, and uses the same junction boxes and accessory fittings. The neutral ivory color will coordinate with any decor. If another color is desired, paint duct with a latex based paint. Patented
All Duct comes in 6 t. lengths and has to be ordered per foot in multiples of 6 feet
RACEWAY ACCESSORIES
All Accessory fittings for One and Two Piece Duct Systems are Made of UL Listed 94V-0 Material

Splices & Caps

Splice covers & connector
to join two duct sections together.
Caps for end of duct run to finish off neatly.
Splice
43-3101 1 inch
43-3102 1/2 inch
Caps
43-6111 1 inch
43-6112 1/2 inch
Tees

Tee cover with connectors.
43-4109 reducer to join 1/2" to 1" application
43-4101 1 inch
43-4102 1/2 inch
43-4109 Reducer

Elbows & Stand Off

Elbow cover & connector for 90° application.
Stand Off used for drop ceilings.
Elbows
43-5101 1 inch
43-5102 1/2 inch
Stand Off
43-6121
External & Internal Corners

Cover & connector used for
dressing inside and outside corner
External Corner
43-5111 1 inch
43-5112 1/2 inch
Internal Corner
43-5121 1 inch
43-5122 1/2 inch

Greenfield Fitting 43-5123

Used to connect conduit or
Greenfield to the 1" Duct System.
Wire Retainer Clips

Clips to hold wire in base on
the 2 piece style Duct only
43-6101 1 inch
43-6102 1/2 inch

Terminal Block 43-7103

For wiring 4 & 6 conductor
telephone outlet jack for 1" duct
Junction Boxes

Used for both 1/2" and 1" Duct for mounting
termination blocks and plates
for complete installation
43-7101 1 inch
43-7102 1 1/2 inch

Cutting Tool 43-8999


Makes cutting a breeze; adjusts to different duct sizes and cuts through back and covers with ease