Beckwith Electronics



Hamburg, Illinois 62045
(618) 232-1139

(618) 232-1172 fax

Aim Electronics
R.F. CONNECTORS AND ADAPTORS

SCSI TERMINATORS
Terminators for SCSI applications come in three types of termination; passive, active, and forced-perfect. Be sure to choose the right type for your application and also note the type and style of attachment, internal or external, thumbscrew or latch type.
Passive terminators:
This is the oldest method of termination. A passive terminator sits on the bus to minimize reflections at the end of the cable. Passive terminators simply provide impedance close to the impedance of the cable. The terminator is passive since it doesn't do any work to regulate power for termination; it relies on the interface card to provide steady power.

Active terminators:
This is the more stable form of termating SCSI cables. Active terminators control the impedance at the end of the SCSI bus by using a voltage regulator, not just the power supplied by the interface card.

Forced perfect:
Of all SCSI terminators, this is the most complex. A cable with a forced-perfect terminator can actually change it's impedance to compensate for variations along the bus. Forced-perfect terminators force the impedance of the cable to match each device through diode switching and biasing.
SCSI 1 SINGLE END, MOLDED


30-9634 CENT. 50M PASSIVE
30-9636 CENT. 50M ACTIVE

SCSI 2 SINGLE END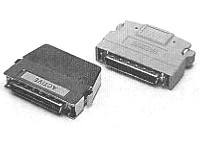 30-9638 HP DB50M PASSIVE
30-9640 HP DB50M ACTIVE
30-9642 HP DB50M DIFFERENTIAL

SCSI 3 SINGLE END, MOLDED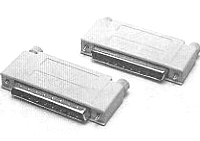 Discontinued
for reference only
30-9644 HP DB68M ACTIVE W/LED
30-9646 HP DB68M ACTIVE NEGATION

SCSI 3 SINGLE END, MOLDED


30-9648 HP DB68M DIFFERENTIAL
30-9650 HP DB68M FORCED PERFECT
30-9652 HP DB68M MULTI MODE LVD

SCSI 3 INTERNAL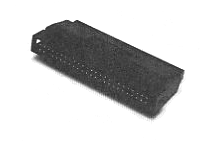 Discontinued
for reference only
30-9654 HP DB68F ACTIVE
30-9656 HP DB68M/F ACTIVE PASS
THROUGH

SCSI 1 INTERNAL


30-9658 IDC 50M ACTIVE
30-9660 IDC 50M/F ACTIVE