Beckwith Electronics



Hamburg, Illinois 62045
(618) 232-1139
(618) 232-1172 fax

EAO SECME Division
KEY SWITCHES Tactile feel PCB switches for panels and keypads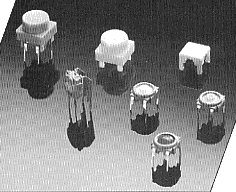 Tactile action key switches find many applications in today's electronic equipment. Almost every auto, computer, instrument, process controller, appliance, or communications set contains a number of PCB-mounted key switches. They are part of the front panel, make up a keypad or keyboard, or are used inside equipment for internal tasks. The SECME Division of EAO Switch Corporation offers three key switch lines to meet your specific requirements.
Ultraminiature low voltage, low current signal level key switches feature momentary 1-pole, 2-position actions. Switch construction uses a dome actuator that produces an audible and/or tactile feedback positively indicating actuation.
Key switches generally are activated through a film overlay as in a membrane switch assembly or by using a silicone actuator or separate button. Two mounting styles are available: perpendicular mount units lay flat on the PCB and require a straight down actuation; right angle mount versions are designed for PCB edge mounting.
Four sizes of key switches (12, 12.5, 7.6, and 6 mm) meet most space constraints and matrix pattern needs. Both leaded and gull wing surface mount styles can be obtained as well as models for automatic or manual PCB insertion. Automatic insertion units are available in dispensing tubes or tape reels for use with standard "pick-and-place" machines and are processed with other components.
Sealed switches resist the rigors of wave soldering, including infrared and vapor phase reflow, double wave (SMT) techniques, and full immersion solvent washing and cleaning.
Key switches select, operate, control, or program virtually all types of electronic equipment ranging from inexpensive toys to rugged industrial controls.
The following data describe and illustrate MICRO-COSMOS, COSMOS, and TACT ECO key switches. Dimensional drawings show sizes, mounting arrangements, and drilling patterns for placing on printed circuit boards.
The construction of custom keypads and keyboard assemblies is discussed with examples of membrane-type switch panels using film overlays as well as versatile through-hole front panel mounting.
Special features such as the use of spherical silicone rubber actuators to increase the tactile feel and illumination techniques for full lens lighting are presented.
A complete line of accessories include various styles and colors of buttons, caps, and lenses, plus a selection of standard and special legends help users customize the switches for individual applications.
Key Switch Comparison Chart
MICRO-COSMOS
7.6 mm square, gold or silver contacts, available for machine or manual insertion, enhanced tactile feel model offered, straight and right angle terminals, sealed for wave soldering and solvent cleaning by immersion.
MICRO-COSMOS SMT
Surface mount version of the MICRO-COSMOS with enhanced tactile action.
COSMOS
12.5 mm square, gold or silver contacts, excellent tactile feel, illuminated models, a wide selection of accessory buttons, covers, and lenses, sealed to for wave soldering and solvent cleaning by immersion.
TACT ECO
6 mm and 12 mm square, silver contacts, low cost, tactile action, several actuator heights, straight, right angle, and SMT terminals, sealed for wave soldering.