Beckwith Electronics

Hamburg, Illinois 62045
(618) 232-1139
(618) 232-1172 fax

EAO SECME Division

Discontinued for reference only
CT83 Economical flush mount keypads

Low cost, flush mount CT 83 keypads are available in 4-key, 12-key, 16-key, and 20-key layouts. Simple, reliable, and rated for more than 1-million operations, the CT 83 key pads are designed for industrial applications and feature a choice of key legend styles and colors.

Rugged, economical 4-, 12-, 16, and 20-key keypads
Common point or matrix wiring
Easy flush mounting
Various key legends available as accessories
More than 1-million operations
Customized CT 83 keypads are available with: common point electrical wiring, marked or colored key caps, black legends hot stamped directly on keys.






CT 83 Keypad
Description
Part Number
4-key, common point circuit
KIT83 04000 06
12- key, matrix circuit

KIT83 12050 06
16-key, matrix circuit

KIT83 16050 06
20-key, matrix circuit

KIT83 20050 06
Keypads are delivered with unmarked white keys and the
corresponding quantity of transparent key caps.
Specifications
Contacts:
Carbon/gold


10 V/30 mA nominal
24V max
500 mV/10 mA min
0.7 W nominal power
Contact circuit resistance
<120 Ohms, initial
Insulation resistance
>1,000 M Ohms, 100 VDC
Operating force
1.8 N +35%
Travel
2 mm +0.1 mm
Operating life
>1-million operations
Vibration resistance
2000 /10 Hz, 10 cycles, 10 G
E.D.S. protection
5000 V
Operating temperature
-25 to +70°C
Storage temperature
-40 to +85°C
12-key keypad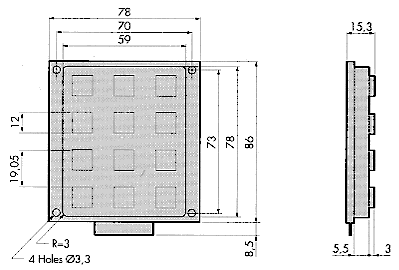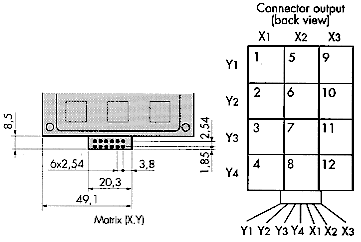 16-key keypad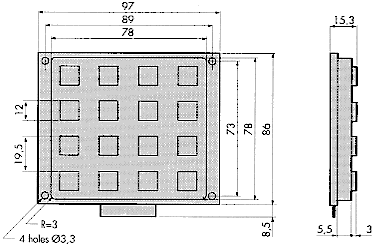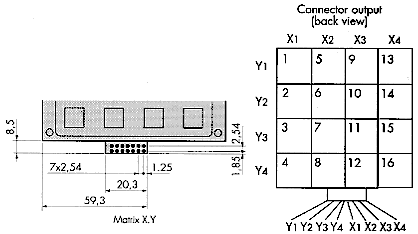 Key Legends
Use with CT 83 keypads

Adhesive legends for keys, mount
underneath clear plastic key caps.
Alphabet, A-Z
20-40501 11
Numbers/symbols
20 40601 11

Blank

20 40406 00