Beckwith Electronics



Hamburg, Illinois 62045
(618) 232-1139
(618) 232-1172 fax

EAO SECME Division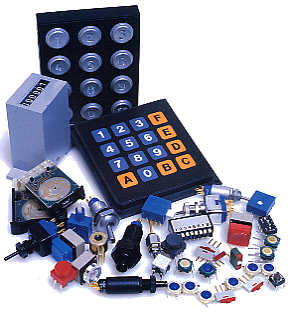 Switching products from the SECME Division of EAO Switch Corporation offer an outstanding selection of components for all types of applications. Whether you need subminiature PCB-mounted key switches or an attractive chrome-handled toggle switch, keypads or DIP switches, tiny changeover switches, or a wide variety of other switching products, you'll find it in this data.

In the next few paragraphs, you'll learn how these high quality switches are designed and manufactured. The rigorous standards that are set and met. And how world-class products can meet your specific switching applications.

The web-site illustrates and describes each switch and present technical specifications to help you select the item best suited for your need. Complete ordering information is provided for each individual assembly so that you can specify the exact switch you want without resorting to complex part number constructions.

Since the SECME Division of EAO offers such a wide variety of products, only the most often needed products are detailed in this data. These include:

• Miniature and sub-miniature key switches that are ideally suited for direct PCB mounting and can be equipped with integral pushbutton caps or serve as switching elements for membrane-type assemblies.

• A !arge selection of assembled keypads for use anywhere a reliable, cost-effective data input device is required. Keypads range from standard, economical, touch-tone type pads to all-metal vandal-resistant keypads that are useful for applications in hostile environments.

• Miniature slide and rotary changeover switches that replace the typical PCB jumpers or interconnects.

• Low-profile miniature toggles and pushbuttons featuring heavy gold contacts and modular DIP mounting.

• Sealed miniature toggle and pushbutton switches with choice of gold or silver contacts and a selection of colored paddles and caps.

When selecting a switch for your specific application, first take the time to identify all your needs, then use the web-site to select the product that best meets these requirements. Our sales engineers are ready to assist you if necessary. Call, write, or faxus with your questions.

SECME Division switching products are represented by a complete network of sales offices and authorized distributors. Most standard stock items are shipped within 48 hours. SECME Division products are available world-wide, under the same part numbers for ease in filling replacement needs or for export applications.

Quality switching products manufactured by the SECME Division of EAO provide outstanding tactile feel with no roughness or hesitation during operation. You can feel the difference.

For more than 60 years, SECME of France has provided outstanding switching products designed to meet the needs of electronic, industrial, commercial, military, and medical applications.

In broad terms, the product line can be divided into five groups: modular key switches used for operation and control, keypads designed to reliably perform under adverse conditions, subminiature PCB changeover and selector switches, a selection of DIP switches, and several styles of industrial pushbutton and toggle units. In addition, SECME offers impulse counters and encoding switches.

Now, SECME and EAO Switch Corporation have joined together to bring users a complete selection of quality switches at affordable prices. The combination provides new and improved switches and design services that will add value to your products.

The SECME Division is headquartered near Paris, France. The company has sales offices and agents located around the world.

As a leader in switching innovations, the SECME Division conducts extensive research and development activities resulting in new products and units adapted specifically to customer requirements.

Making full use of its computer-aided design capabilities, a library of switch designs is maintained and continually refined. CAD information shortens the time required to produce prototypes and tooling for production and pre-production activities.

The production process is fully automated using special machinery developed exclusively for SECME manufacturing operations. Skilled operators and assemblers combined with precision equipment permits the production of dependable switching products in large quantities.

In order to maintain the quality necessary to meet worldwide switching demands, an extensive series of checks and controls in place. Conformity checks verify that the finished product meets French and international standards that are part of each unit's specification. Additionally, production units are continuously subjected to a series of destructive and non-destructive quality control tests assuring reliable operation and meeting the predicted product lifetime.

As a further commitment to quality, the SECME Division has earned the coveted ISO-9002 certification assuring customers that an approved quality control plan is in place and being followed.

The SECME Division line of switches is available in the United States through an extensive network of professional independent sales representatives, each trained in the product features, benefits, and applications. Stocking distributors across the country are ready to provide off-the-shelf stock for rapid order fulfillment and serve as a ready source of product information.

A combination of unique product line, aggressive pricing, and flexible delivery schedules makes SECME Division your switch vendor of choice.

For over half a century, SECME has maintained its position as a leader in the switch field by working in close cooperation with you, the user. This partnership will continue to provide quality products helping solve your switching needs and adding value to your products.

Standards, approvals, certifications, and preferred lists are all important considerations when selecting electronic components for use in your products.

These specifications, operating limits, and techniques of production, testing, or quality control make sure that the switches and keypads you specify will fulfill the basic requirements needed for safety, operation, and dependability.

The SECME Division of EAO Switch has a longterm commitment to adhere to important standards and certifications and has sought these approvals for all its applicable switching products.

In addition to I.E.C. C.E.C.C., NF, U.T.E and other European and French standards, SECME also offers S.N.Q./C.C.Q. certification which assures mechanical and electrical production control procedures. These tests are performed non-destructively in batches and by periodic destructive testing. SECME has an approved production plant and test laboratory and can use the NF symbol stamped on packaging for products that are produced under C.C.Q. control.

The SECME manufacturing facility also is approved to MIL 1 45 208 A.

Preferred lists are an indication of product acceptance by various industry or military groups and can guide the user as well as assure appropriate products for specific application areas. SECME preferred lists include; the Military Users Ad Hoc Advisory Group (MUAHAG). French military tri-service specifications for electronic component selection and use for new developments (GAM T1), product lists that are maintained under C.C.Q. control-subject to mutual agreement with certification being granted by the relevant country M.O.D. (QPL), a guide list of components approved for use by the French National Telecommunications Research Center (LNZ-44-04), and OTAN Manufacturer Number F 0537.

One of the most important certifications available today is the coveted ISO 9000 series of standards. Almost mandatory when selling into Europe, ISO 9000 now has become common here in the U.S. as well. The Department of Defense and Food & Drug Administration are two government agencies that now have contract guidelines based on ISO 9000 standards. It is not easy or inexpensive to gain this certification but benefits are far in excess of the cost. ISO 9000 is the future of industrial standardization and it's not going away.

All SECME manufactured products have earned registration to the ISO 9002 standard, providing a model for quality assurance in production installation, and service. This registration, under certificate No. 011.94, indicates that the SECME Division is operated in a manner that will provide quality assurance for manufactured goods and services.

There is no substitute for quality-particularly when the success of your product or process is depending on reliable operation of its individual parts. Outstanding component design plus the meticulous European workmanship found in every SECME device brings dependability and safety to your switching requirements and manufactured products.