Beckwith Electronics

Hamburg, Illinois 62045
(618) 232-1139
(618) 232-1172 fax

EAO Switch
Series 96
Sealed PCB-mounted Switch-Available with one or two LEDs

FEATURES:
42 V AC/DC, 100 mA maximum
Sealed switch-IP 67 exceeds NEMA 4 & 13
Consistent tactile feel
One or two LED illumination
SPDT gold snap-acting contacts
5-million operations
Dual-in-line package dimensions
Momentary or maintained action

Description
General Information: EAO Series 96 is the finest low profile circuit mounted product in its category. The Series 96 is environmentally sealed, meeting IP 67 specifications (watertight to a depth of 3 feet). The design of the Form "C" Contact is unsurpassed in quality and reliability.
Mounting: Designed to mount on a printed circuit board. Since the low profile switch is completed sealed (IP 67) it can be flow soldered. A locating pin assures dimensionally exact assembly in rows or blocks.
Key Caps: Standard key caps for momentary or maintained operation feature four dimensions: 17.4 x 12.4; 17.4 x 14.8; 17.4 x 17.4; and 17.4 x 35.2 mm (0.685 x 0.488; 0.685 x 0.582; 0.685 x 0.685; and 0.685 x 1.386"). Euro-style key caps are 17.4 x 12.4.
Illumination: Key caps are available for use with one or two T-1 bi-pin LEDs (colors: red, yellow, green).
Legend Engraving: For engraving or film insertion, Contact Beckwith Electronics.
Order Lamps Separately.

Selection Table, Lens and Drawings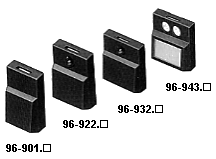 96-951.3
Double Width Key Cap
Momentary Action
17.4 x 35.2 mm (0.685 x 1.386)
No LED Orange
LED holes can be supplied on request