Beckwith Electronics

Hamburg, Illinois 62045
(618) 232-1139
(618) 232-1172 fax

EAO Switch
Series 22
Illuminated Oil & Watertight Pushbutton Switches and Indicators

Features:
380 VAC/10 A, 220 VDC/0.2 A, 24 VDC/6 A Minimum depth: 2.34"
Sealed switches meet IP 65 and NEMA 4 and 13 specifications
Double air break 3 mm contact gap
Screw or quick connect terminals
Lighted mushroom cap
Mounts conpletely from front of panel

Lamps and Lenses Not Included
To order:First select pushbutton or indicator desired. Then order lens, ilumination, and bezel separately.
Order Lamps Separately.
Selection Table, Lens and Drawings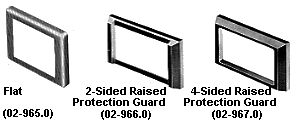 22-930.5
Lighted Pushbutton Lens
Translucent Mushroom Cap
with translucent diffuser
(Use only flat (A.) front bezel), Yellow
Select Color: 0=Black, 1=Solar Black, 2=Red, 3=Orange, 4=Yellow, 5=Green, 6=Blue, 7=Clear, 8=Gray, 9=White. Black and Grey are Opaque.