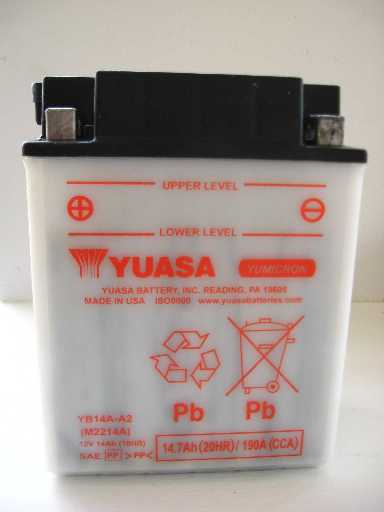 Boats.Net
Defective Battery


On December 9, 2013 I purchased a Battery on line, from Boats.net - Outdoor Network, LLC, 730 US Hwy 27 North, Lake Placid, Florida 33852. I thought it was a good deal. Upon receiving the battery, I opened the box and found a smaller box inside counting the battery. Neither box had any damage. I viewed the battery and replaced it the smaller box. I discovered that it did not contain any Electrolyte (acid). I called Boats.net to see why it was not included. They said that they could not ship the Electrolyte. I said that there was not any indication of this on their Web Site. They said that I should know that it was not able to be shipped.
I then called around to find a source for the Electrolyte (acid). We are in a rural area and the nearest source was 2 hours away. It was several weeks before I able to acquire the electrolyte (acid). It was several more weeks before I found the time and good weather to replace the battery in my ATV.
Upon filling the battery, I found that it leaked. Contacting Boats.net, I received an email stating that I needed to contact Yamaha for the Warranty. I contacted Yamaha and was informed that Boats.net had to send in the battery for a warranty. I then contacted Boats.net and received a response stating that the carrier was responsible for damaged shipments. However since there was no damage to either box, it couldn't be the carriers responsibility.
The Post office said that the damage didn't occur during shipping due to the lack of damage to the boxes. Since the battery was not damaged inside the box and there is no damage to either of the boxes I feel that it was damaged either before being boxed or re-boxed since the damaged is in a depressed area on the bottom of the battery. See pictures. The damage did not occur after the battery was received.
This line appears at the bottom of the order:The Outdoor Network LLC - Boats.net Store is committed to providing the best in customer service. Please feel free to contact us if you need assistance.

To: Boats.net
I just filled the battery with acid today, it took a while to get the acid and a nice day, and it leaks. I realize it was ordered in December, but it still is defective. What can you do about it since it is defective?
Thanks,
Robert
Reply
Hello
Since it has been over thirty days you will have to contact yamaha to see if you can take advantage of thier warranty.
Regards,
Latoya
Customer Service
Boats.net
Toll Free: 877-408-1587

To: Boats.net
Latoya;
Do you have a contact for them?
Robert
Reply
(No Response)

To: Boats.net
Latoya;
I spoke with Yamaha Customer Service and they Informed me that you need to take action regarding this battery.
If not I can file a complaint with them regarding your actions.
Thanks,
Robert
Reply
Mr Robert
As a seller of marine and powersports equipment, we purchase from several hundred manufacturers and distribute their products throughout our marketing area. Most of these manufacturers have a warranty for their product line, a copy of which is available upon request. We do not offer warranties, expressed or implied, other than what is offered by the manufacturers. Boats.net does not assume responsibility or liability for the workmanship or use of products. However, as a courtesy to our customers, we will accept for return any products sold by our company that may appear defective. Acceptance of any such products by Boats.net does not constitute an admission of liability nor validity to a claim but is done solely to assist customer and manufacturer. Products that are accepted under the above conditions are either returned to the manufacturer or held for their agent to inspect for any warranty consideration.
Regards,
Latoya
Customer Service
Boats.net
Hello,
We do not normally accept returns on electrical parts at all and warranty is normally carried out by your local dealer, However if you will forward pictures of the package and part to Chris.p@outdoornetwork.com he will review them for possible replacment. We appreciate your business,
Regards,
John K.
Customer Service

To: Boats.net
To: Chris.p@outdoornetwork.com
Cc: Latoya
Subject: Defective Battery
Attached are pictures of the Box and the Battery that came in the Box. As I had previously indicated neither of the boxes showed any shipping damage. A quick visual inspection of the battery did not show any defects. However when the Battery was filled with electrolyte the cell, nearest the Positive Terminal, leaked. It would appear that there was some damage prior to shipping since there is no visual damage to the box..
Robert Beckwith
Reply
Robert,
I regret to inform you that I cannot accept this battery back as a return/exchange. There is simply too much time that has passed since you received the product. We have strict no returns policy on electrical devices. In this case, the battery appears to be cracked. We have a policy set forth for instances such as this and it goes as follows:
Damaged or Missing Shipments
Missing or damaged packages are the responsibility of the delivering carrier. If you receive a damaged package, save the box and all packaging material, and then contact us right away. Damaged shipments, defective merchandise and packing errors must be reported to us within 48 hours of receiving. Customer service representatives can be contacted by email, online chat or by calling the toll free number listed on the site.
There are too many factors that could contribute to the damage on the battery, i.e. possibly the battery was dropped or mishandled, etc. Per our terms and conditions the company will not allow me to accept this item back. If you have any further questions or suggestions please feel free to contact me directly. Thank you and have a great day.
Chris P. | Manager
Marine - 877-408-1587 | parts@boats.net | http://www.boats.net/
Powersports - 877-473-4595 | parts@partzilla.com | http://www.partzilla.com/


Boats.net Order# 41635468
Thanks for your order, Robert Beckwith!
Want to track your order on Boats.net?
Go To: http://www.boats.net/index.php?pcsid=tp62034qs4g5je34m0en4fj485&p=invoice_detail&view=DBEE1F8CF9D7755E

Ship To:
Bill To:
Robert Beckwith
RR 1 Box 156B
Hamburg, Illinois 62045-9718

Robert Beckwith
Billing Address stored with
PayPal Express Checkout
,

Ship Method:
USPS Priority Mail
Product Info

Quantity

Price

Part# / Description
Each
Total
4XE-H2100-00-00 YB14A-A2 YUASA BATTE
1
$52.75
$52.75
SubTotal
$52.75
Shipping Fee
$6.95
Grand Total
$59.70


------------------------------------------------------------------------

Customer Service Contacts

The Outdoor Network LLC - Boats.net Store is committed to providing the best in customer service. Please feel free to contact us if you need assistance.

Email
parts@boats.net

Phone
Toll Free: 877-408-1587
International: 00-1-863-354-6377

Address
Boats.net - Outdoor Network, LLC
730 US Hwy 27 North
Lake Placid, Florida 33852

Hours of Operation
Monday - Friday 8AM - 9PM EST
Saturday 8AM - 4PM EST

Boats.net - The Alternative to Retail Prices