FEATURES:


Aries' Universal Test Socket accepts devices on .300 to .600 [7.62 to 15.24] centers.


All pin count sockets go into PCB with either .300 or .600 [7.62 to 15.24] centers.


Swing quick-release handle down to open contacts and insert device. Release and handle automatically returns as contacts close onto device leads.


Socket handle can be mounted on either the right or left side.


Sockets can be soldered into PCBs or plugged into any socket.

SPECIFICATIONS:


Socket body is black UL 94V-0 Glass-filled Polyphenylene Sulfide (PPS). Hi-temp. body is natural Poly Ether Ether Ketone (PEEK).


Handle is Stainless Steel.


Handle knob is Brass Alloy 360, 1/2 hard (no knob on loop handle).


Contacts are Beryllium Copper Alloy 172 per QQ-C-533 or Spinodal Alloy. Hi-temp. contact are Beryllium Nickel Alloy 360, 1/2 hard.


Beryllium Copper contact plating is either 100 u [2.54 um] min. Tin per MIL-T-10727 or 10 u [.25 um] min. Gold per MIL-G-45204 over 50 u [1.27 um] min. Nickel per QQ-N-290.


Spinodal contact plating is 50 u [1.27 um] Nickel Boron.


Hi-temp. Beryllium Nickel contact plating is 50 u [1.27 um] Nickel Boron.


Contact current rating=1 Amp.


Insulation resistance=1000M Ohms min.


Dielectric withstanding voltage=1000 VAC.


Life cycle: 25,000 to 50,000 cycles.


Operating temperature:
221°F [105°C] Tin Plating,
302°F [150°C] Gold plating,
392°F [200°C] Nickel Boron plating,
482°F [250°C] Hi-temp. socket.


Retention Force (when closed)=55 grams/pin based on a .020 [.51] diameter test lead.


Accepts leads .015-.035 [.38-.89] wide, .110-.280 [2.79-7.11] long.

MOUNTING CONSIDERATIONS:


See socket footprint below.

"A"=No. of Pins per Row X .100 [2.54] + .590 [14.99]
"B"=(No. of Pins per Row -1) X .100 [2.54]
"C"=(No. of Pins per Row X .100 [2.54]) + .415 [10.54]
Series X57X
Quick-Release
Universal Zero Insertion
Force DIP Test Socket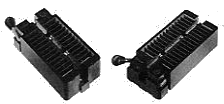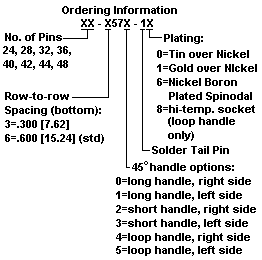 | Handle | Dim. "H1" | Dim. "H2" | Dim. "H3" |
| --- | --- | --- | --- |
| Long w/knob | .568 [14.43] | .471 [11.96] | .760 [19.30] |
| Short w/knob | .317 [8.05] | .252 [6.40] | .435 [11.05] |
| Loop (no knob) | .270 [6.86] | .193 [4.90] | .405 [10.29] |